More from FreeWheelin' mag here: http://freewheelin.ie/irelands-top-uplift-assisted-mountain-bike-parks/
Not every mountain bike spin needs to involve climbing, so for those wanting to give their legs a day off from the grind, but want to keep the stoke levels high on the trails, then uplifting is the answer.
Ireland has three purpose built uplift mountain bike parks dotted around the country – The GAP in Dublin, Bike Park Ireland in Tipperary and East Coast Adventure Centre at Rostrevor, Co. Down.
All unique in their own way, they operate a regular shuttle service to get you and your bike to the top of the mountain with ease, allowing you to rattle down the trails as fast as possible.
If you ain't got a bike there's an option to rent one too. Chuck in a cheeky cafe stop at the trailhead car park and we reckon it's a great day's craic, especially if you're taking things easy in the winter 'off season'…
With 14 trails The GAP has lots to play on – PC: ADVL Photo
The Gap – Glencullen Adventure Park
Opened in 2017, Ireland's newest bike park has been taking the country by storm. Southside of Dublin, the private facility actually sits on the backside of Ticknock trail centre and the Three Rock area in the Dublin Mountains.
It's not aimed at complete beginners and its 14 top class trails graded Blue, Red and Black ramp up pretty fast in difficulty and technicality. With Pro lines like the Widow Maker you might want to stop and watch others tackle them first, however you can steadily graduate there by honing your skills on the Blue and then Red runs.
Importantly, The GAP have uplifts dialled, even on busy days, with four mini bus and trailer setups to accommodate up to 64 riders.
Time slots vary depending on the day of the week. On Wednesday and Thursday during winter there is an afternoon uplift between 1pm and dusk. Friday, Saturday and Sunday, including Bank Holidays, uplifts run 9-30am-12.30pm and 13.30pm-4.30pm.
Onsite facilities include The GAP Kitchen and bike hire.
 https://www.youtube.com/embed/JnwUTOkLb5w
Prices
Weekdays: €20 Half Day / €35 Full Day

Weekends: €27 Half Day / €40 Full Day
Information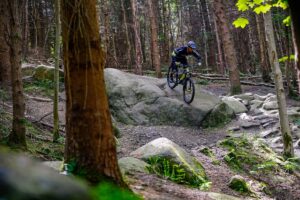 The infamous Hecklers Rock awaits at Rostrevor – PC: Robert Lynn
East Coast Adventure – Rostrevor Mountain Bike Centre
Unlike The Gap and BPI, the Rostrevor Trail Centre, run by Mountain Bike NI, is open to the public and free to use seven days a week. However, East Coast Adventure operate a bike hire and uplift service at Rostrevor Trail Centre in Co. Down.
The uplift services the centre's two main downhill tracks: On The Pulse and Mega Mission. On The Pulse – used in the Red Bull Foxhunt – is filled with rock gardens, drops and berm corners, while Mega Mission is more jump orientated. Rostrevor also has a bunch of top class natural trails that conveniently link in with the uplift, although these are accessed at your own risk.
You can also purchase a single uplift if you just wanted to ride the Red or Black loops of the trail centre but fancied cutting out the initial 'Lungbuster Climb'.
Fast and efficient, with plenty of craic from the driver, you'll be hard pushed to make it back down the mountain before him, meaning no hanging about between runs.
The uplift service runs Saturdays and Sundays (including Bank Holidays) and can be booked in advance online.
Onsite facilities include the Synge & Byrne Cafe, showers, bike hire plus camping and glamping incase you want to make a weekend out of it.
https://www.youtube.com/embed/f1R1ORwEzmI
Prices & Running Times
Morning Uplift: 9.30am – 12.30pm £17.50

Afternoon Uplift: 2.00pm – 5.00pm £17.50

Single Uplift: £5 (To be purchased at Rostrevor Mountain Bike Centre)

*There is an additional discount for booking a full day.
Information
Bike Park Ireland
Bike Park Ireland is the country's first purpose built mountain bike park with uplift service and officially opened in 2014. They also hosted the National DH Champs this year, so know what they're about.
The park has eight trails to suit everyone from the complete beginner to pro and are graded Green, Blue, Red and Black, so you always know what you're dropping into.
BPI use an army truck and trailer to hoist 30 riders and bikes up the hill each time and with four trips per hour it's a swift system. There's one pick up and drop off point with the trails branching out from the top of the hill but ending up in pretty much the same location at the bottom.
The trails are open every Saturday and Sunday, though groups can squeeze in midweek rides by booking in advance.
Onsite facilities include the Mucky Boot Cafe, changing rooms and showers, bike hire, camping and two self catering cottages incase you want to make a weekend out of it.
https://www.youtube.com/embed/uHASdC8d-0g
Prices
Half Day Uplift: €30 (or €27 online)

Full Day Uplift: €40 (or €37 online)
Opening Hours
November – March: 9.30am-4.30pm

April – October: 10am-5pm
Information
Written By:
Robert Lynn